Security additives manufactured by the Document Security Laboratory of ANY Security Printing Company PLC can be used both in paper and in plastic:
Security fibres, flocks for the production of high level security papers
Fluorescent plastic foils to prevent the replacement
Security fibres
Security fibres have been widely used for years to increase the security level of paper-based documents. ANY Security Printing Company PLC produces security fibres of varying sizes and colours on polyamide and viscose bases. Our offering includes various coloured and colourless, fluorescent and non-fluorescent fibres of varying length and Dtex numbers, which can be made of either polyamide or viscose.
Generally, we recommend the use of two or more different flocculants within one document and of course, we are at our customers' disposal to develop combinations that suit their needs.
Shiny dots
Shiny dots are highly luminescent, invisible particles. These particles are carefully classified regarding their size and then placed into the paper during its manufacturing. These dots may have different fluorescent colours. Application of this security feature has several advantages comparing to conventional fluorescent paper additives (fibres and planchettes): 
Easier to achieve the homogenous distribution of the particles
Adhesion is much better between the paper fibres and particles
Due to the much smaller dimensions, there is no printing problem with the particles close to the paper surfaces
If any of the particles would fall out from the paper during printing process they remain no detectable trace
Attractive 'starry sky' appearance
Their application doesn't affect neither the luminescent nor the visible features of the document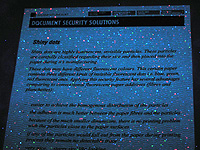 Our standard range of products:
No. 31. Blue Colourless shiny dots fluorescent with blue
No. 32. Red Colourless shiny dots fluorescent with red
No. 33. Green Colourless shiny dots fluorescent with yellow and green
After individual agreement, we undertake the production of shiny dots that are colourful or have other special features.