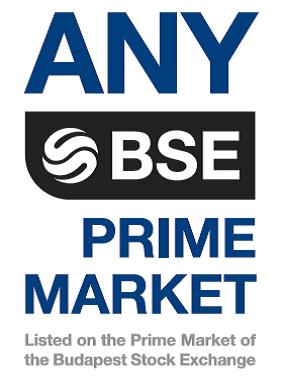 ANY Security Printing Company PLC – former State Printing Company – founded in 1851 is one of the biggest security printing companies in Hungary and leading in the CEE region. The Company offers complex solutions in the field of document security products, production and personalisation of plastic cards and bulk transaction printing. ANY PLC is one of the greatest document producing and personalising companies, whilst it produces MasterCard and VISA bank cards for many domestic and international banks as well. Besides the parent company, its Romanian and Bulgarian joint ventures produce personalised business forms, invoices, letters of advice for banks, insurances and public utilities. Through its developments focusing on document safety and NFC based mobile technology the Company offers products and solutions like e-ID or the NFC based mobile payment solutions suitable for international standards. The Company's prime market shares have been present in the Budapest Stock Exchange since 2005.
On this page, you can find the latest information intended to investors and analysts. If you need more information, background materials or images, please turn to the contact person for investors Mr. Tamás Karakó, CFO. E-mail address: karako@any.hu
We launched a newsletter for the investors of ANY Security Printing Company PLC in which we immediately inform our partners of compulsory announcements and current information. Should you want to be registered for the Hungarian or English newsletter, please send a letter to karako@any.hu.
Mandatory disclosures, press releases Last updated: 30/09/2014
Number of voting rights, share capital at ANY PLC
Export revenue dynamically increased in the Printing Company
Financial reports Last updated: 11/08/2014
Interim Report 2014. Q1-Q2 Results
Interim Management Report 2014. January – March Results
General Meetings Last updated: 09/05/2014
Minutes of the Annual General Meeting
Resolutions of the 2014 Annual General Meeting of ANY Security Printing Company Plc
IFRS Consolidated Financial Statement 2013
HAS Financial Statement of the Parent Company 2013
Report on Corporate Governance 2013
Event Calendar Last updated: 01/08/2014
Corporate Information
Ownership structure Last updated: 15/05/2014
Statutes 31/03/2014 Last updated: 09/05/2014
Boards, management Last updated: 19/04/2011
The members of the ANY Group 
Analysts who follow the Company's performance
Concorde Értékpapír Zrt.
Raiffeisen Bank Zrt.
Alkotás utca 50. 1123 Budapest, Hungary
Akadémia u. 6. 1054 Budapest, Hungary
Mr. Attila Gyurcsik
Mr. Levente Blahó
share analyst
share analyst
Tel: (06-1) 489- 2200
Tel.: (06-1) 484 4301
a.gyurcsik@con.hu
levente.blaho@raiffeisen.hu
 
 
Erste Befektetési Zrt.
KBC Securities
Népfürdő utca 24-26. 1138 Budapest, Hungary
Széchenyi tér 7-8. 1051 Budapest, Hungary
Mr. József Miró dr.
Mr. Péter Szentirmai
senior analyst
share analyst
Tel.: +361 235 5131
Tel.: (06-1) 483 4076
jozsef.miro@erstebroker.hu
peter.szentirmai@kbcserurities.hu