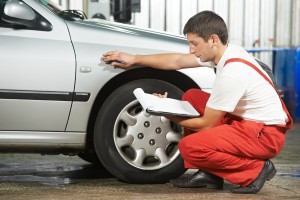 Car theft is the most common criminal offence all over Europe. The vehicle registration card introduced in Hungary reduced the number of thefts and the sale possibility of stolen cars. However recently, the illegal spare trade has gained ground by dismantling stolen cars, instead of the misuse of vehicle documents protected at a high level. This activity raises the risks identified by the insurance companies, increasing indirectly the charges for all owners by higher insurance costs.
The vehicle marking system is a security marking technology, which places specific individual marks on the vehicle using various elements and materials, which can be only partly removed by corrosives or re-polishers.
The vehicle marking system is placed at thirteen different spaces in the vehicle, which are invisible to the human eye, except the RFID chip. The system consists of a unique, RFID chip, which cannot be copied, twelve graphic security identifier that are almost impossible to forge as well as a special UV reactive marking material placed under each graphic security identifier. It can be removed only by corrosives or re-polishers. Data can be integrated either to national or international producers' databases or other databases, using the in-house developed data-related software.
The car's electronic service book equipped with a chip capable of multiple applications would provide the possibility for the authorities to be able to electronically store all vehicles' data under a central database, from their issue. This chip would serve not only the secure control, but it would allow the expert services a comprehensive documentation of their services compulsory under warranty as well as afterwards. It would also authentically support the sale procedure of the vehicles as well.
Components of the Marking System
RFID INDENTIFIER:
A passive or active, unique electronic identification chip encoded or otherwise protected, suitable for storing all important data of the vehicle.
LABEL:
A graphic security identifier, which is basically a sticker equipped either with twelve individual chips marked with serial number, barcode, or miniature RFID, or with visual marks and security markings on demand. This is placed uniquely, in exactly specified spaces and ways, on certain elements of the vehicle.
MARKING:
A special marking material, which can be used universally on vehicles as well. It is a UV-reagent chemical suitable for markings. The material can be applied on all fully polished surfaces of the vehicle.